Kenya Smiles is a comprehensive public health and dental care project of the 71 Rotary Clubs of District 5160 in Northern California, the Rotary Club of Karen-Nairobi, Kenya, District 9200/9212, and District 6150.
It is a model plan designed to improve the oral health of children in Kenya through the development of a sustainable dental preventive care program.
It does not offer direct curative services to children; rather, it focuses on a long-term strategy of building awareness, providing information, and promoting education about oral health and dental care supplemented with the delivery of basic equipment, supplies, and materials.  The initial implementation sites are Mukuru kwa Njinga Slum in Nairobi and rural areas around Meru selected because of their diverse demographics and locations.  However, the project was created to allow smooth replication in other regions of Kenya and to be adopted with minor modifications by other countries in East Africa and beyond.
The goal is healthier children in Kenya now and in the future.
The Six Project Components
1. Enhancing skills and knowledge of dental care professionals in Kenya
Local dentists and health care providers will be offered both information and training to advance a program of preventive care and to carry it out on a continuing basis.  Mobile operatories (portable dental offices in a suitcase) will be provided to the Kenya Dental Association, the University of Nairobi School of Dental Sciences, and Meru Dental Services so that they can provide treatment for children in underserved and rural areas.
The need is profound.  Studies indicate that 95% of adults in Kenya have gum disease, and finding dental care can be challenging with the extremely high ratio of population to dentists.  Comparisons between California and Kenya are revealing:  California's population is ~38 million people with ~30,000 dentists.  Kenya's population is ~42 million people with fewer than 1000 dentists.
 2. Providing nutrition education
Mothers, health care providers, educators, and caregivers will receive materials, information, and education about selecting and preparing nutritious foods for their children.  The benefits of traditional local foods will be emphasized with possible modifications to enhance their nutritional value. Cooking demonstrations in local languages will include recipes and the introduction of energy efficient (jiko) stoves and  ovens.  In the rural areas, education will include the introduction of more economical and productive farming/gardening methods, using drip irrigation, natural fertilizers, and growing a larger variety of nutritious vegetables.
This component will initially be conducted with more than 200 women in two very diverse areas of Kenya:
1.  The Mukuru kwa Njenga Slum in Nairobi at the Slum Information and Resource Development Centre with training provided in Kiswahili.  http://www.sidarec.org
2.  The rural area near Meru north of Mt. Kenya at the Thiiri Cultural Centre with training provided in Kimeru.  http://thiiriculturalcentre.org
3. Delivering education and dental care supplies to children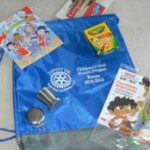 Children will receive information and have experiences to help them learn how better to take responsibility for their own oral health.  Their teachers will receive information, materials, and support to provide ongoing education for children about this critical but often over-looked subject. Traditional classroom instruction will be supplemented by videos, puppets, and demonstrations plus age-appropriate supplies, posters, and other educational materials that will be provided to the demonstration sites.
One of the unique features of the program is providing colorful and useful backpacks filled with supplies, materials, and instructions for dental care (and a few toys) to 5000 children.  The toothbrushes, toothpaste, informational literature on dental care, and classroom posters will be donated by Colgate Palmolive East Africa.  The included stainless steel collapsible cup for rinsing is especially popular with the children. Rotarians and others have been invited to contribute $10 to sponsor each backpack. The donor's name is included on a colorfully printed card put into each backpack.
 4. Providing Outreach and Public Information
Project information will be broadly shared through media, public presentations, articles, and other outreach.  Formats include online, print, electronic – TV and radio, digital, and social media.  Local youth at SIDAREC and Thiiri will be trained to produce programs of training and presentations for outlying areas and will receive some related equipment to help implement this training.
Radio programs will be produced and aired on Ghetto Radio 99.9 and other stations featuring interviews, announcements, news, information, and celebrity endorsements on the benefits of good oral health.
The process, findings, and outcomes will be documented, distributed, and shared online and in print, social digital, and electronic media including television, radio, and video so that the program can be replicated in other areas of sub-Saharan Africa.
5. Sponsoring a Vocational Training Team from Kenya to California
Six exceptional Rotarian and non-Rotarian dentists from Kenya came to District 5160 in April 2013 for advanced professional training.  They are the Chief Dentist of Kenya; the National Chair of the Kenya Dental Association; Chairman, Department of Periodontology/ Community and Preventive Dentistry; the Dentist In Charge at   the Aga Khan University Hospital in Nairobi; a dentist/lecturer at Kenya Methodist University in Meru, and the owner of a series of private dental clinics.
They participated in forums and seminars at UC Berkeley and UC San Francisco, at the University of Pacific Arthur A. Dugoni School of Dentistry, met with professional colleagues including the Executive Director and other leaders at the California Dental Association, met with California State Legislators, visited clinics and sites throughout Northern California, and spoke at several meetings and community events.
6. Sponsoring a Vocational Training Team from California to Kenya
A team of Rotarian and non-Rotarian dentists will go to Kenya in mid-July 2013 to provide advanced training and information about children's oral health for dentists, policy makers, educators, faculty and students at the University of Nairobi School of Dental Sciences, university students, researchers, caregivers, collaborative partners, government agencies, non-governmental agencies, and others.
The Team will participate in meetings, presentations, forums, seminars, lectures, interviews, demonstrations, consultations, promotions, and dialogues in Nairobi and Meru. They'll visit schools and clinics to talk with children, educators, parents, caregivers, administrators, and others about oral health, dental care, and nutrition.  While they will not be expected to provide treatment to patients, the may have a consultative role to support local dentists in certain situations.
With the Kenya Dental Association, local Rotarians, collaborative partners, and others, they'll assist in presenting 5000 children with dental care backpacks filled with dental care supplies, materials, and information provided by the Kenya Dental Association, Colgate Palmolive East Africa, Kenya government ministries, Rotary International, and possibly others.
Collaborations with experts, suppliers, organizations and agencies
Kenya Smiles will conduct these key activities in partnership with experts, suppliers,  and agencies in the United States and Kenya.
In addition to the sponsorship and participation of Rotarians in Districts 5160, 9200/9212, and 6150, Kenya Smiles is working with leading experts in the United States including UC Berkeley/UC San Francisco Joint Medical Program, UOP Arthur A. Dugoni School of Dentistry, the California Dental Association, Aseptico, and more.  Additional partners and supporters are being added.
In Kenya, participants include the Kenya Dental Association, University of Nairobi School of Dentistry, Colgate Palmolive East Africa, Ministry of Health, Ministry of Agriculture Nutrition Education Division, Aga Kahn University Hospital – Nairobi, Kenya Methodist University, DentMed Kenya, Meru University of Science and Technology School of Food Technology, Slum Information Resource and Development Centre (Mukuru kwa Njenga, Nairobi), and Thiiri Cultural Centre (Kithoka/Meru).
Kenya Smiles will improve the oral health of children in Kenya by developing a sustainable dental preventive care program that promotes education, information, and awareness about oral health in children.
The message is that good nutrition and oral hygiene can prevent tooth decay, mouth pain, and malnutrition.  The goal is healthier children free from preventable pain, ready to grow, motivated to learn, and eager to play in a world of peace.